Welcome to John W. Anderson Watercolors
My first awareness of art resulted from being fascinated by an elementary school classmate's amazing ability to draw comic strip characters. I was intrigued by such talent and probably set a subconscious goal to become able to draw that well myself. My first formal art education occurred while I was still an elementary school student when I attended Saturday art classes at the Samuel S. Fleisher Art Memorial in Philadelphia. Studies at Drexel University led to a forty-six year career in architecture, including key positions with firms in Philadelphia, Cincinnati and Orlando.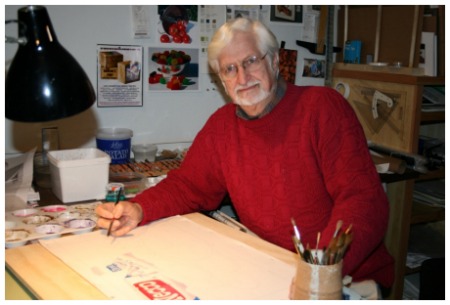 Drawing played a major part in my professional career. I typically produced renderings of design projects in pen and ink with color often added with designer markers or colored pencils. In addition to professional registration in six states and membership in the American Institute of Architects, I was certified by the National Council of Architectural Boards.
After retiring from architectural practice in 2005 and moving to Hendersonville in the mountains of western North Carolina, I studied watercolor painting with Sue Archer, AWS, NWS; Sterling Edwards, CSPW, TWSA; James Scott Morrison, NWS and Ian Ramsay. I currently serve on the Board of the
Watercolor Society of North Carolina
and am also a member of the
Southern Watercolor Society
. I am a partner in the
Asheville Gallery of Art
, a twenty-eight-member artist cooperative and am also represented by
Wickwire Fine Art/Folk Art
in Hendersonville, NC and Gallery Alta Vista in Valle Crusis, NC. I have enjoyed acceptance into numerous juried exhibitions and have been fortunate to receive a number of awards.
I am a member of the
Whiskey Painters of America
. The WPA was founded in the mid 50's by industrial designer Joe Ferriot. His hectic traveling and business demands frustrated him with the lack of time to paint. So he came up with an idea. He created a small palette the size of an aspirin box with a tiny brush and cut small pocket sized pieces of watercolor paper that would fit in his shirt pocket. He would use these materials when he was in airport lounges or waiting areas throughout the country. To entertain and amaze the people around him he would dip his brush in whatever he was drinking at the time and create miniature masterpieces. He never had to buy a drink after that and his paintings became very sought after commodities.
FRAMING:
Being a woodworker as well as a painter, I custom handcraft most of my frames from Appalachian hardwoods like oak, walnut, maple and cherry or South American Lyptus. The frames are simple in design and, typically, have corners that are reinforced with splines of a contrasting wood. The frames are finished with two coats of clear, semi-gloss polyurethane and topped with clear paste wax. Sheet acrylic is used for glazing.
To view some of my work and affiliations please see the following websites: